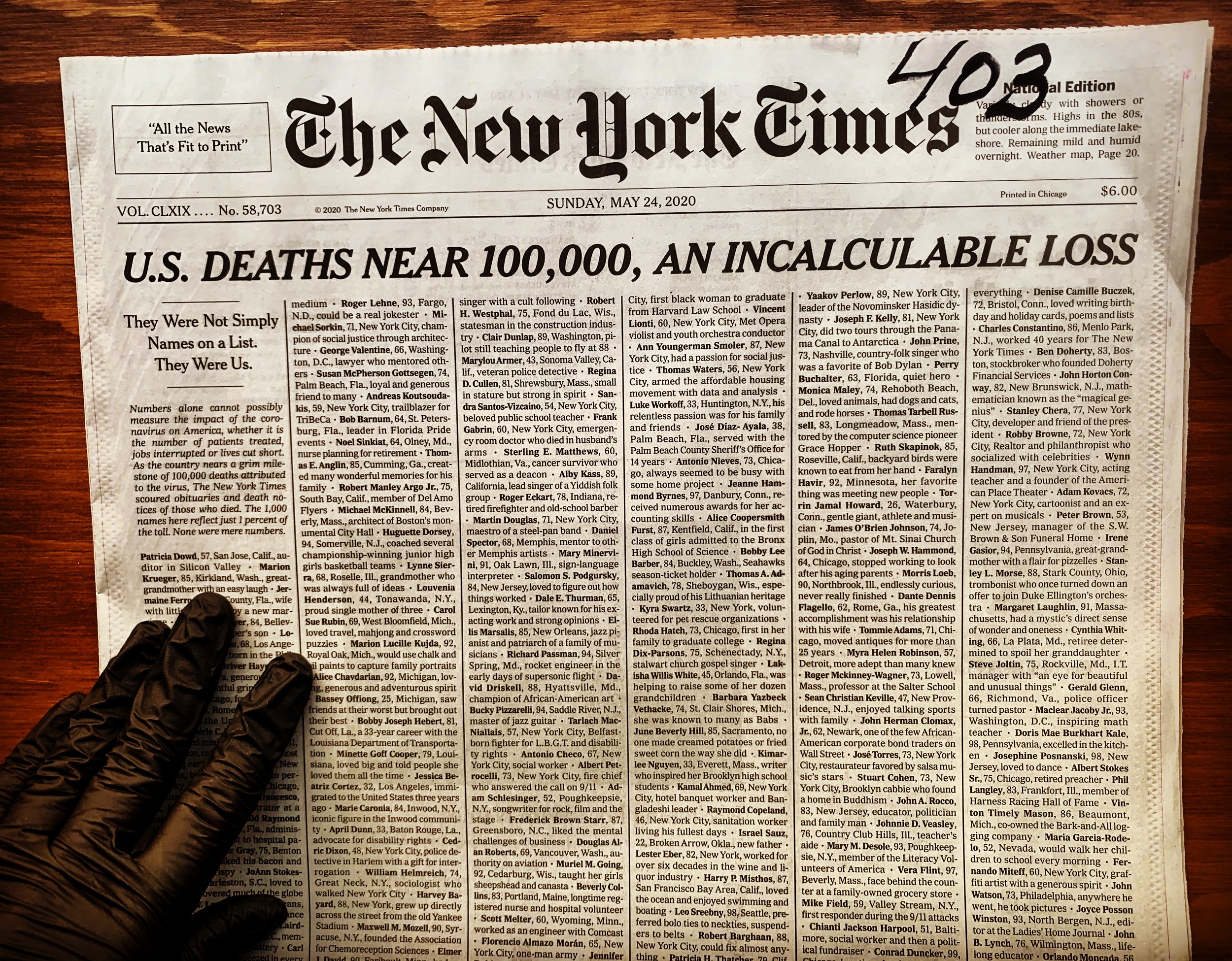 The photograph (fig. 1) of the "human toll" cover of the New York Times I posted on Instagram on Memorial Day 2020 was one of my first efforts to work with what I call "melancholy as medium."1 As I noted, the text by Dan Barry accompanying the New York Times' cover incants the number 100,000 over and over to give it meaning, asking us to imagine a city of 100,000 residents that was here at New Year's Day but is now wiped from the map. "All we can do," he tells us, "is hold our collective breath, inch toward some approximation of how things were—and try to process a loss of life greater than what the country incurred in several decades of war, from Vietnam to Iraq."2 Rather than circumscribe our mourning as a means to return to the regime of things as they were, melancholy practiced as a medium holds open the aperture for change, calling on us to confront the incalculable of a novel coronavirus made lethal by a necropolitics of abandonment, driven by a racist, xenophobic calculus of life made disposable. Thus, in my post, I responded:
If this is the lesson, then . . . may none of us rest as we live our dying. May we not forget but actually do the work of reckoning with the still uncounted of the crimes of the endless war we are still in, the uncounted of mass incarceration, the uncounted of the warehousing of life exposed from the border to the nursing home, the still uncounted of genocide within the settler colonial occupation, the uncounted of histories of slavery that are not over. May none of us hold our breath, but, rather, learn to breathe through the supports we demand for living with more than one virus. May we not mourn and move on, but activate our melancholy to insist that, there was nothing inevitable about this number and that this number is a criminal underestimation of the unfinished histories and conditions of heteropatriarchal racial capitalism that made COVID lethal. May we also refuse to return to any approximation of the before unless it is to continue the work of imagining and materializing a Black trans*feminist commons. Remembering Douglas Crimp who died just before COVID-19 and his insistence on mourning and militancy. Remembering José Muñoz and the practice of a resistant melancholy in carrying our dead with us into the battles we must still wage in their names, in our names, in all the many names that claim us, all the names given to life marked for uncounted death. It's why I call it the Necrocene.3
It is now more than time we reckon with the unimaginable of the other side of the official calculus, that shadow region of what is called "excess mortality." The recent study in the Lancet of March 10, 2022, makes plain that mortality metrics do not just shape the public-health policies that determine who lives and dies.4 As I learned early from my refugee statistician grandparents, whose primary means of negotiating the uncommunicable and untranslatable wound-gulf of preventable loss was metrical calculation, these numerical barometers of what we are willing to face are shaped by the bio- and necropolitics of who and what counts.5 In the shadow region of excess death, the global toll by the end of 2021 is closer to an estimated eighteen million, and the excess death count for the United States more than one million.6
If this is what care looks like, then let us not move on. Let us, rather, take back care and rage-grief resistance. TRANSMISSIONS, the 2020 Day With(out) Art program of videos commissioned by Visual AIDS in honor of World AIDS day, in the corona of COVID-19, reminds us that "care" has a violent paternalist, necropolitical, and colonial history of anti-trans, anti-crip, and homophobic making die.7 But, thanks to the video performance by the Chilean travestí band Las Indetectables of Noelia le Shalá's poetic rewriting of care, "Me Cuido" (Spanish for, at once, "I take care of myself" and "I'm careful"), we may hear the call of a form of care turned back against the system that weaponizes it. Listen to the lyrics' rearticulation of care as a rallying cry of refusal against the violences of disposability: "I take care to reject your patriarchal myths that seek to marginalize us, to label us other, the inhuman, the murderable, those fags that can be killed, those people who deserve to die . . . Me Cuido . . . I take care not to suppress my sexuality."8
So then what form of taking back care across this fragile planet may help us confront the challenge of an AIDS crisis that is not over as we face a COVID-19 made pandemic and lethal by the structural anti-Black racism, transphobia, and ableism of the global heteropatriarchal racial capitalism and settler-colonial condition that make us sick?
We might begin by acknowledging another form of care that is already its own force of contagion in the world. Against the platitudes of the nonperformative well-wishing of "get well soon" and "take care," artist-activist Johanna Hedva calls on us to hear past the platitudes to summon another version of care, a radical praxis of care that, like revolution, "insists on itself": "We take care, we give care, and it can be contagious, it can spread. It shows us that the limit of the world is always a place to be exploded, pushed against, transformed. Meet me there, at the end, where there is give and take, and let's follow each other into the beginning."9
At the end of the world, in the wake of the retraction of the convivial promises of human life lived together under what is called democracy (remember rights, access, agency, autonomy, something called the "life, liberty and the pursuit of happiness"?) that have yet to materialize as "unalienable" for disabled, queer, trans, and racialized life lived in conditions of exacerbated vulnerability and forced precarization, this pandemic-turned-endemic moment, in which we must figure out how to live with more than one virus, presents a critical moment for aesthetic intervention.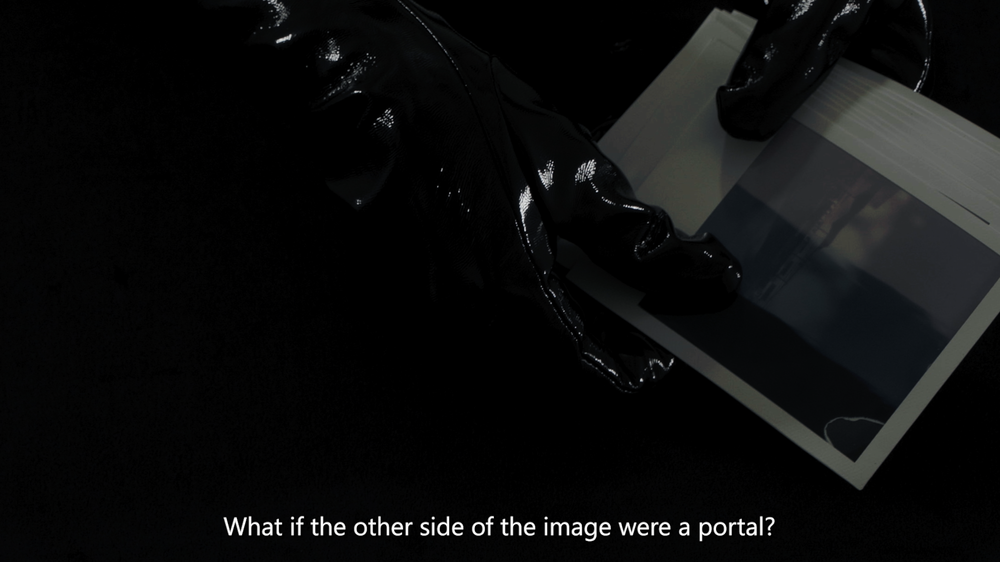 While in quarantine and with an old Polaroid SX-70 in hand, I pursued participant-observation research that took me out to the South Brooklyn Marine Terminal where (as of May 2021) hundreds of the unclaimed dead from COVID-19 were still held in the limbo of the freezer-truck network of disaster morgues, awaiting possible burial on Hart Island (the largest mass grave site in the United States, which may also be the largest cemetery for victims of the AIDS epidemic).10 These fugitive Polaroids (that summon the kind of uncontrolled, chance encounters where material vulnerability meets disposability and something alchemical happens) became the basis for a first film, Untitled (Melancholy as Medium) (fig. 2).11 A commission from the Ford Foundation Gallery, the short experimental film premiered on June 9, 2021, in the fifth online chapter, "Melancholy as Medium," that I conceived for the exhibition Indisposable: Structures of Support after the Americans with Disabilities Act as an activist wake.12 Unfolding a ritual of mediumship, the film conduces our outraged grief as catalytic for the uprising and care work of living with more than one virus, amidst more than one pandemic, carrying our as-yet-unaddressed losses into the battles we're still waging in the name of supports for the thriving of Black, Brown, Indigenous, crip, queer, and trans vitalities. Centered on these fragile Polaroids (fig. 3), the film conjures with the material susceptibility of analogue photography to commune with the incalculable but still powerful presence of unredressed loss.13 In reversing the primacy of showing over telling, the film incorporates disability access as aesthetic gain by making closed captioning integral and image description its primary vehicle.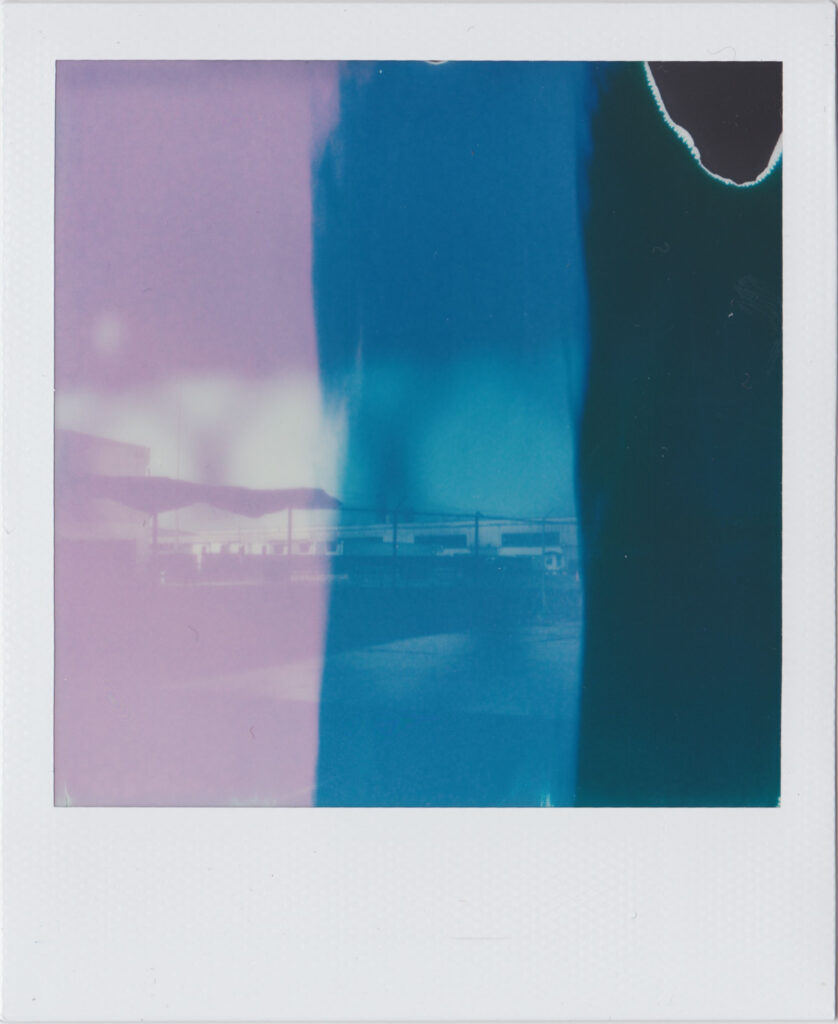 Melancholy understood and practiced as medium is no mere synonym for sad; nor is it some fancier, multisyllabic word for grief. Rather, Untitled (Melancholy as Medium) advocates for melancholy as a praxis. Far from necessarily isolating, melancholy as praxis bonds us in a critical form of denied relation. That is, melancholy practiced in and as the wild binds us together in a presumptively unnatural assembly with the dead and dying, which we also are. And it holds us fast in a refusal to accede to a new normal that accepts death and disposability as necessary and inevitable. Untitled (Melancholy as Medium) builds on my theoretical work on care for death and is dedicated to opening a portal onto the praxis of a kind of unhinged melancholy as medium, a queer kind of wild care for the dead, dying, and consigned to death to confront the necropolitics of disposability.14
And yet, while Untitled (Melancholy as Medium) may be about catalyzing rage-grief resistance to normalization and moving on, it is not inimical to joy. We might, rather, call the melancholy it advocates a praxis of "melancholy joy" off the hook of prescribed happiness and mourning as a ritualized stage that is also contained by the commercial consumption of a funeral-industrial complex.15 That is, it may be a praxis of the obscene, which gets close to death and dying to contest the very terms of that dying: not mourning and militancy but mourning as militancy or, rather, activated melancholy as medium, practiced as a way of conducing our outraged grief that also questions the means as well as the when and where of the political and of activism—from one sick and death bed to another—and not just on but also from the inhumed but not-at-all-emptied ground of settler coloniality.
Cite this article: Jill H. Casid, "Melancholy as Medium," in "Exploring Indisposability: The Entanglements of Crip Art," Colloquium, Panorama: Journal of the Association of Historians of American Art 8, no. 1 (Spring 2022), https://doi.org/10.24926/24716839.13243.
PDF: Casid, Melancholy as Medium
Notes
About the Author(s): Jill H. Casid is Professor of Visual Studies in the Departments of Art History and Gender and Women's Studies at the University of Wisconsin–Madison.
---