The Decolonization of John Sloan
In recent years, historians have engaged decolonial research methods and pedagogical approaches that aim to dismantle the hegemonic structures of power that dominated the construction of academic knowledge from the beginnings of European conquest in the Americas.1 Early scholarship that asserted American exceptionalism and colonialist hegemony still forms the center around which the canon of American art has expanded since the 1970s. Today, it is critical that we return to primary sources to question the veracity of these foundational texts and the narratives that they provided for the story of American art. If colonial America and Americanist art-historical coloniality are to finally meet their end, we must also engage the challenging and purposefully obfuscated materials in the archive. We must ask ourselves why our scholarly predecessors may have chosen to craft intentionally deceptive accounts and how, in the present moment, we might act purposefully to supplant these accounts with more factual histories.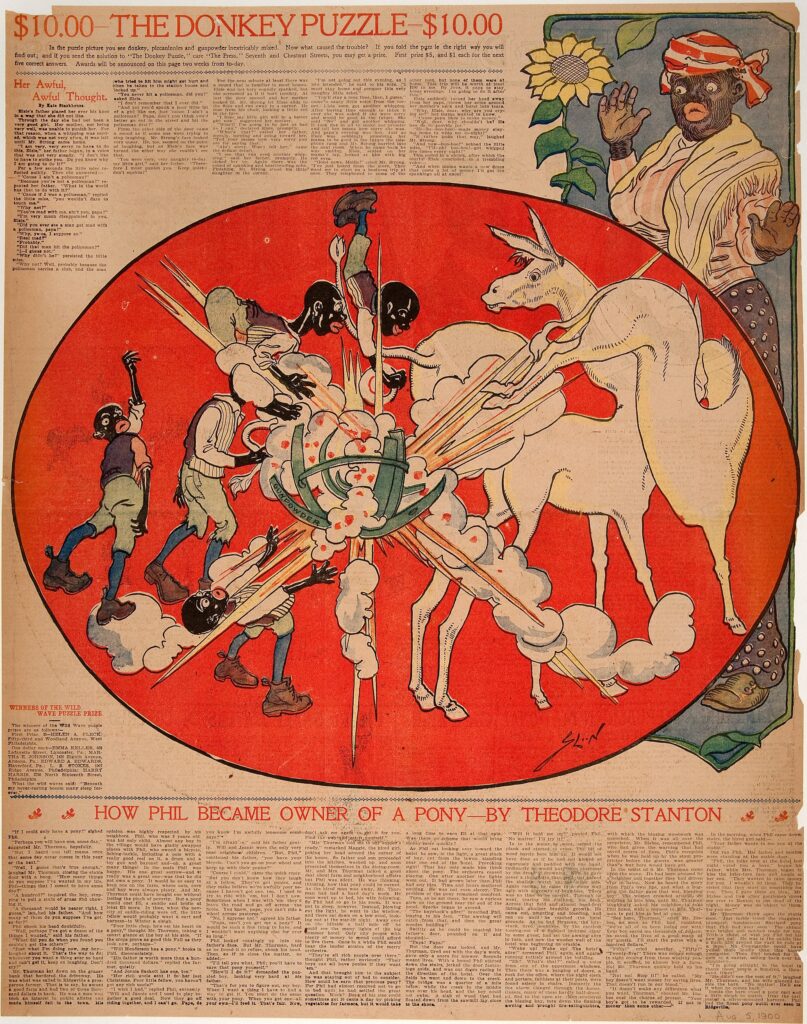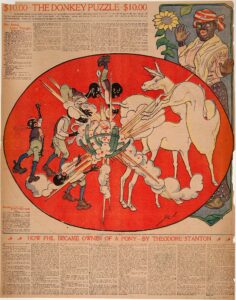 For example, due to the efforts of colonialist art historians, the illustrator and painter John French Sloan (1871–1951) has long been enshrined as a central figure within American art history. A member of "The Eight," Sloan's mature work was part of the so-called Ashcan School, dedicated to picturing working-class and immigrant European communities of New York City between 1900 and World War I. Although scholars have focused on numerous aspects of Sloan's life and career, they have largely ignored the profound effects that his deeply held and remarkably clear colonialist beliefs of white racial superiority had upon his artistic production and teaching.2
The process of whitewashing Sloan began a little over a decade after his death when his early diaries were published under the title John Sloan's New York Scene: From the Diaries, Notes, and Correspondence, 1906–1913. The book's editor, Bruce St. John, then director of the Delaware Art Museum (DAM), purposefully omitted twelve of the thirteen times Sloan used the N-word in his diary.3 In this key text, which has been used countless times by generations of art historians working on Ashcan, the slur only appears once, as the title for the portrait of Eva Green by Robert Henri.4 St. John's expunging of the term obscured Sloan's white supremacist beliefs and was an act of colonialist art history that initiated a half-century of art-historical ignorance, radically skewing the history of American art.5
The John Sloan Manuscript Collection at the Delaware Art Museum, which was acquired by St. John from Sloan's widow, Helen Farr Sloan, includes more than three hundred boxes of photographs, illustrations, and letters that provide considerable evidence of the artist's racism.6 In the 1906 to 1913 diaries, Sloan exults in his own perceived white supremacy, making frequent use of the N-word to describe both strangers and African Americans whom he personally knew, including artist Henry Ossawa Tanner.7 Numerous illustrations in the collection, such as a puzzle of a mammy figure watching a group of Black children being kicked by a donkey from August 5, 1900, published in the Philadelphia Press (fig. 1), demonstrate Sloan's use of vile racist stereotypes in his early visual art. The archive also contains photographs of the artist; his first wife, Dolly Sloan; colleague Everett Shinn; his classmates at the Pennsylvania Academy of the Fine Arts (PAFA); and his associates at the Art Students League in New York City engaging in numerous acts of derisive racial masquerade (figs. 2–4). A good party for these American modernists meant donning blackface, staging Orientalist masquerades, and painting grotesquely subjugated Black bodies onto theatrical backdrops. When considered in concert, these materials clearly show that Sloan would not only have been considered a racist by today's standards but by those of his own era as well.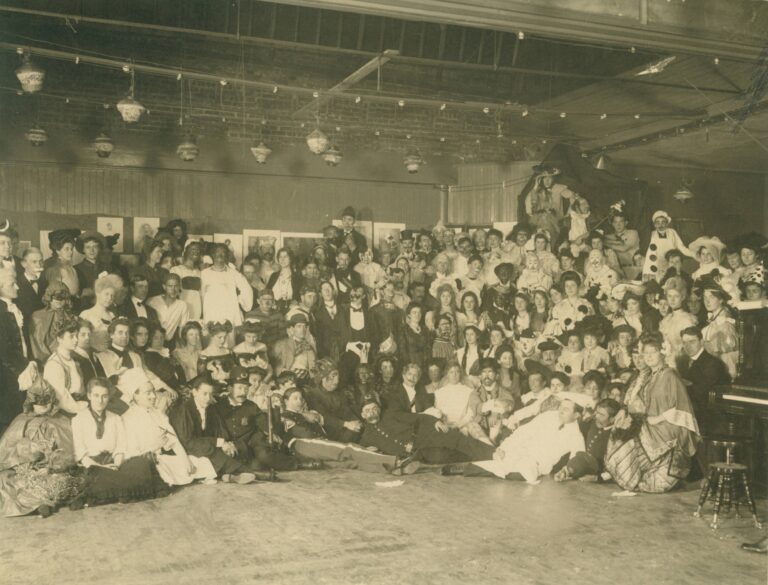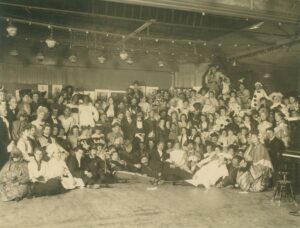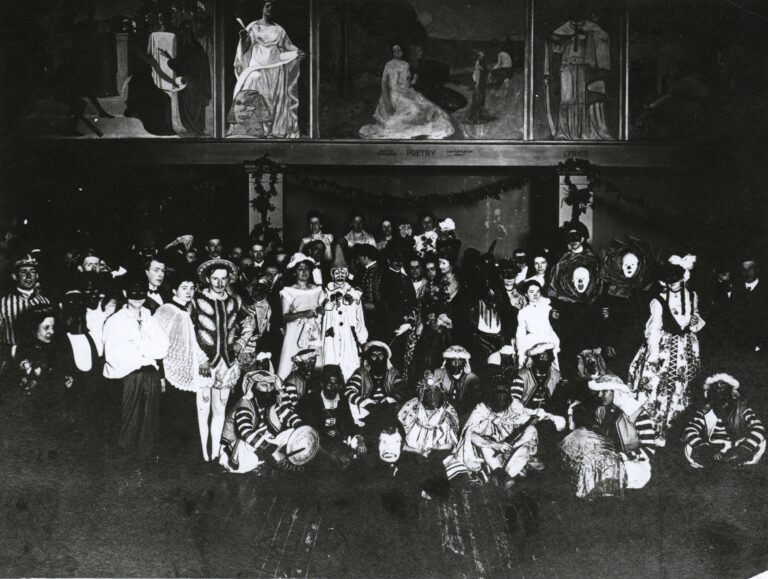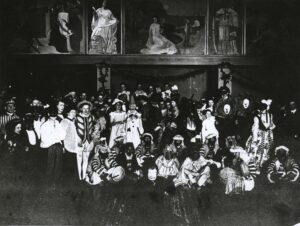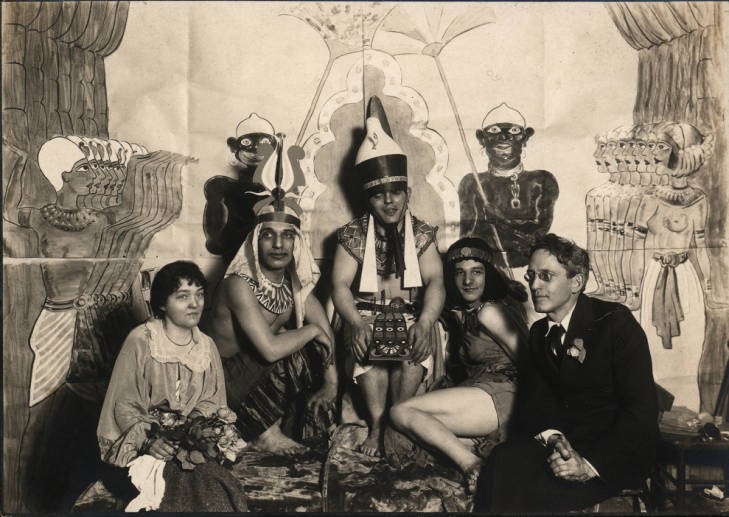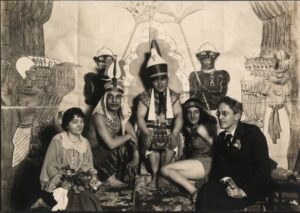 To continue to ignore the colonialist world view that saturated Sloan's early career—to ascribe his repellent attitudes and behavior as typical of "a man of his time"—fails to account for the ways that racism impacted Sloan's painting, which included almost no representations of Black subjects despite his living and working in neighborhoods with sizeable Black populations. Further, his attitudes helped to institutionalize racism in two of the most prominent American art schools in the early-1900s, affecting both his colleagues—including Shinn and Henri—and impacting younger artists who studied with him at PAFA and the Art Students League.8 Due to the intervention by St. John and choices made by subsequent scholars for whom issues of race have not been "a part of the project," historical scholarship on Sloan was long silent on this issue. Thankfully, Alexis L. Boylan, Margarita Karasoulas, Lee Ann Custer, and other formidable scholars of the current century are beginning to elucidate Sloan's racism and his relationship to whiteness by considering problematic representations of the non–Anglo Saxon populations that he both pictured and purposefully ignored in his art.9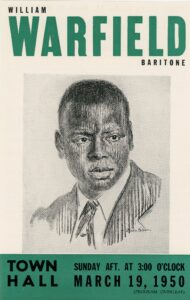 Interestingly, diary entries from the last seven years of Sloan's life reveal that by middle age the artist had developed a different attitude entirely.10 When he resumed keeping diaries after a forty-year hiatus from the practice, Sloan wrote with reverence about the accolades garnered by Paul Robeson, the power of Richard Wright's prose, and joy on finding himself seated next to W. E. B. Du Bois at a dinner held at the famed Knickerbocker Club.11 He also journaled about his antiracist conversations with white bigots.12 His art changed as well. Two years before his death in 1952, Sloan made a sketch of the African American baritone William Warfield for the opera singer's debut at New York's Town Hall (fig. 5). In the portrait, Warfield wears a suit coat and tie, his gaze intently focused on the future, his personhood fully visualized. Stylistically, it communicates more of an Eakins-like interiority than an Ashcan urbanism. It is also fifty years and a million miles removed from the racist caricatures of the donkey puzzle. Sloan got "woke" before he died.
It was the enlightened Sloan that St. John sought to preserve with his act of art-historical editing a decade later in the mid-1960s. St. John's motivation to whitewash Sloan's past may have been propelled by the impact of the Civil Rights Movement and efforts to desegregate downtown Wilmington, just a few miles from DAM.13 Three years after the publication of John Sloan's New York Scene, uprisings that followed the assassination of Martin Luther King Jr., led the governor to call the National Guard to Wilmington, where they remained for nine months, the longest occupation of a US city since the end of the Civil War. As the director of a key cultural institution, St. John may have been rightly concerned about promoting an artist with profoundly racist beginnings to a community that was mired in racial inequality. His predicament and the choices that he made about how to deal with it should give us all pause to consider how our own research and writing choices may either prolong or help to bring about an end to colonial America.
Cite this article: Gwendolyn DuBois Shaw, "The Decolonization of John Sloan," in "When and Where Does Colonial America End?" Colloquim, Panorama: Journal of the Association of Historians of American Art 7, no. 2 (Fall 2021), https://doi.org/10.24926/24716839.12714.
PDF: Shaw, The Decolonization of John Sloan
Notes
About the Author(s): Gwendolyn DuBois Shaw is Class of 1940 Bicentennial Term Associate Professor in the Department of History of Art at the University of Pennsylvania
---